Red Chilli Mackerel with Fresh Onion Chutney

A fusion of flavours which lends itself to the mackerel perfectly. Lovely served with Pilau rice.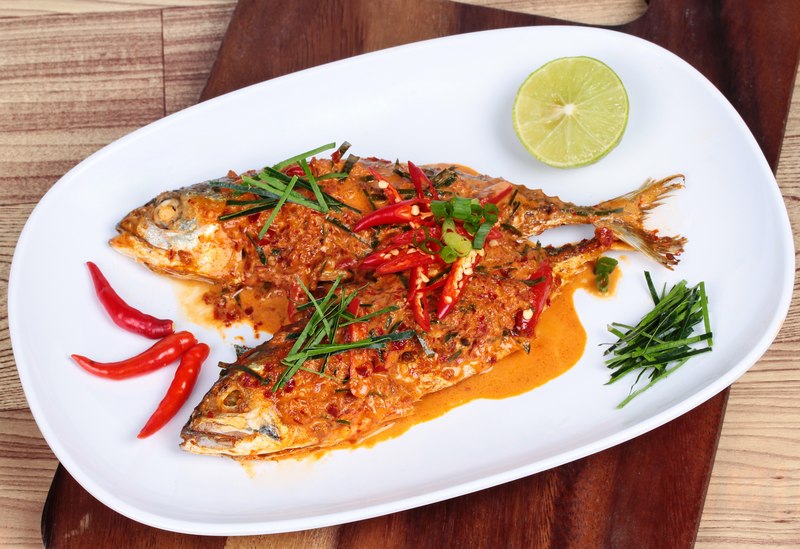 Ingredients:
8 x 100g mackerel fillets
6tbsp veg oil
salt
lime wedges.
Masala: 
20g dried guajillo chillies (can be substituted with dried red chillies)
1tsp black peppercorns
1tsp cloves
1tbsp light muscavado sugar
6 cloves garlic roughly chopped
4cm root ginger peeled and roughly chopped
4tbsp red wine vinegar
1 med hot red chilli seeded and thinly sliced
Chutney: 
4tbsp red wine vinegar
1 med red onion quartered and sliced
Juice 1⁄2 lime
Fresh coriander chopped. 

Method:
1. For the masala paste cut open the dried chillies and remove any stalks and seeds, cover with hot water and leave to soak for 20mins.
2. For the onion chutney cover the red chilli with the vinegar and set aside.
3. Drain the soaked dried chillies and grind in a food processor with the sugar, garlic, ginger, vinegar and 1/2 tsp of salt, blend adding a little of the chilli soaking liquor to make into a smooth paste.
4. Make deep incisions in the mackerel fillets on the skin side, season with salt and then spread the masala paste inside the cuts in the mackerel.
5. Fry the fish in hot veg oil until cooked, next drain the vinegar from the red chilli and mix with the remainder of the ingredients for the fresh onion chutney with some salt to taste.
6. Serve the mackerel with the fresh onion chutney and a squeeze of lime.