Scottish Scallops with Thai Barbecue Sauce

An Asian twist on one of our most popular shellfish.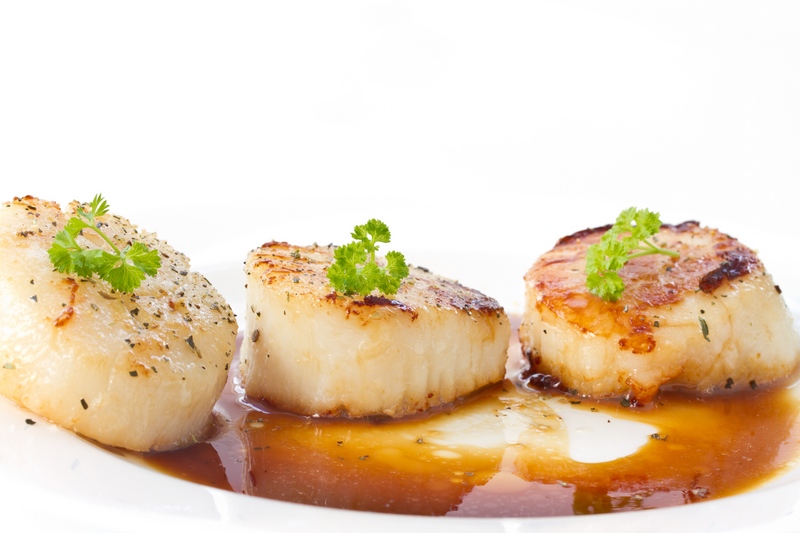 Ingredients:
8 king scallops or 12 queen scallops
Olive oil, to cook 
8ml sesame oil 
250g diced onion
45g chopped ginger 
240ml freshly squeezed orange juice
5g garlic paste
5g chilli paste
60ml honey
240ml plum sauce
120ml hoisin sauce
150g tomato juice
120ml worcestershire sauce
15g dijon mustard
30g chopped coriander
75g chopped lemon grass
90g soft dark brown sugar
3g paprika
1g black pepper
3g salt

Method:
1. Heat the sesame oil in a large pan, then add the onions and brown lightly.
2. Add the ginger and cook for 5 minutes over a medium heat.
3. Add the remaining ingredients and cook for 20 minutes.
4. Strain through a fine mesh then cook for a further 20 minutes to reduce the sauce.
5. Use straight away or allow to cool in a Kilner jar until required. Heat before serving.
6. Remove scallops from shells and clean.
7. Heat a little olive oil in a non-stick pan over a medium heat.
8. Season the scallops with salt and freshly ground black pepper before placing into the pan sliced-side down and cook until golden-brown, about 1-2 minutes.
9. Turn the scallops over and reduce the heat. Cook for a further 1-3 minutes, or until just cooked.
10. Serve with Thai BBQ sauce.