Cullen Skink

Cullen is a wee town in the north east of Scotland and skink means soup or stew. Cullen Skink is traditionally made with Finnan haddock or haddie, potatoes and onions.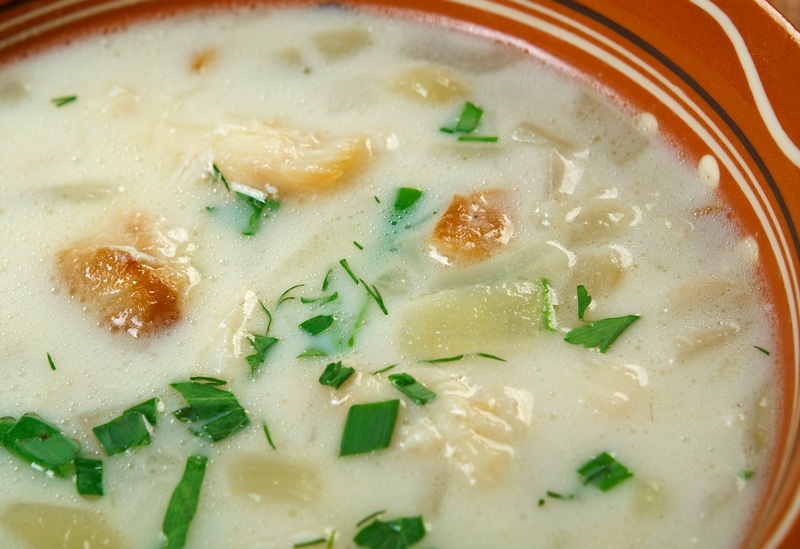 Ingredients:
400g Scottish smoked haddock
200g roughly chopped onion
100g butter
800g potatoes
500ml milk
1.5l stock
200ml cream
Chopped parsley

Method:
1. Peel, boil and mash the potatoes.
2. Simmer fish, onion and and seasoning in stock for 20 minutes and when cool enough to handle, remove skin and bones and flake the fish.
3. Strain the fish stock into the mashed potatoes and add the cream and mik. Bring to the boiland add the fish.

4. Adjust the seasoning and add the parsley.
Chinese Salt And Pepper Prawns
A Chinese classic with the finest of Scottish Langoustines.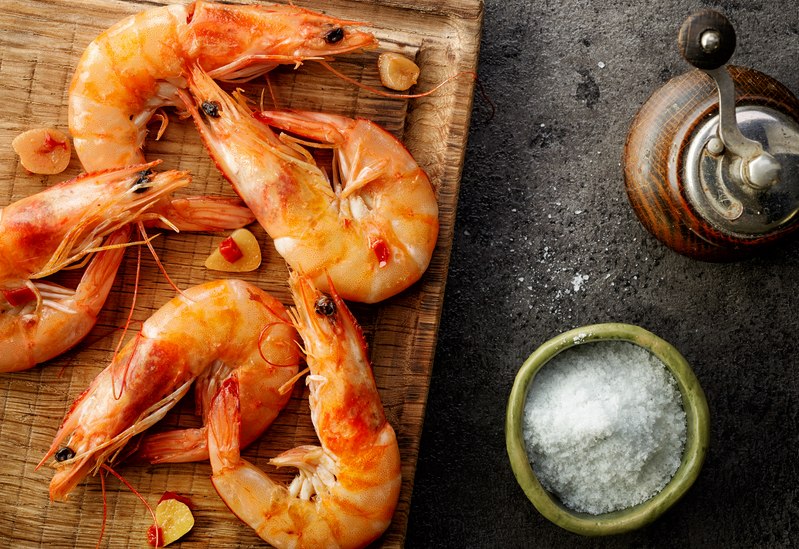 Ingredients:
1k raw unshelled prawns/Scottish langoustines        
1 tsp Chinese 5 spice powder
1 tsp Sichuan peppercorns ground 1 teaspoon ground black peppercorns
2 tbsp salt a little oil for searing

Method:
1. Dry fry the salt for a few minutes to colour slightly then add the 5 spice, the Sichuan pepper and the black pepper. Remove from the heat and cool.
2. Meanwhile griddle or fry the prawns in the minimum of oil until cooked about 30-40 seconds.
3. Add a little of the salt mixture to the pan and toss for another 30 seconds.
4. Serve immediately with lemon juice and chives to garnish.
Scottish Haddock with Turmeric, Coriander and Lime

A modern take on haddock with the citrus taste of lime and fragrant flavour of coriander.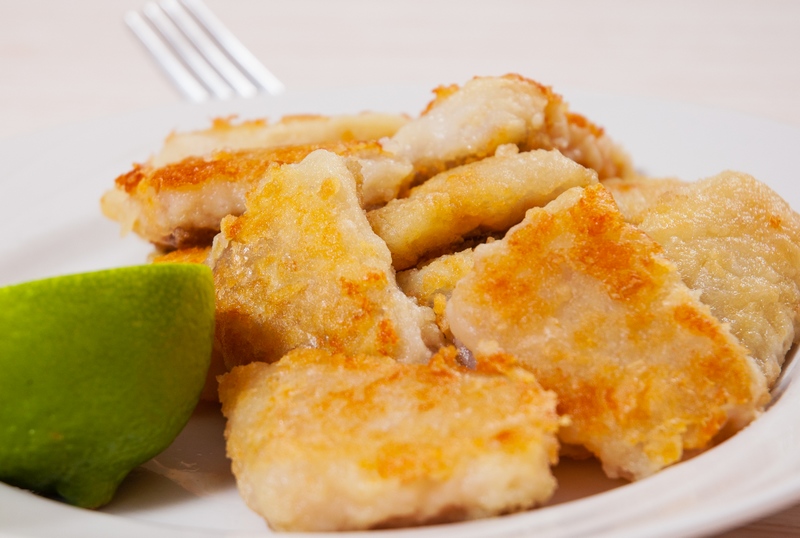 Ingredients:
4 x 150g fillets of Scottish haddock
50g melted butter
1 teaspoon turmeric
1 teaspoon salt
Juice and rind of 1 lime
Tablespoon coriander chopped
Cracked black pepper.

Method:

1. Mix melted butter, lime zest and juice and turmeric in a bowl. Add the finely chopped coriander and salt. 2. Dip the haddock fillets in the mixture and set aside for 5 minutes. 3. Pan fry the haddock for 1 minute on either side and serve garnished with cracked black pepper, coriander and lime wedges.
Red Chilli Mackerel with Fresh Onion Chutney

A fusion of flavours which lends itself to the mackerel perfectly. Lovely served with Pilau rice.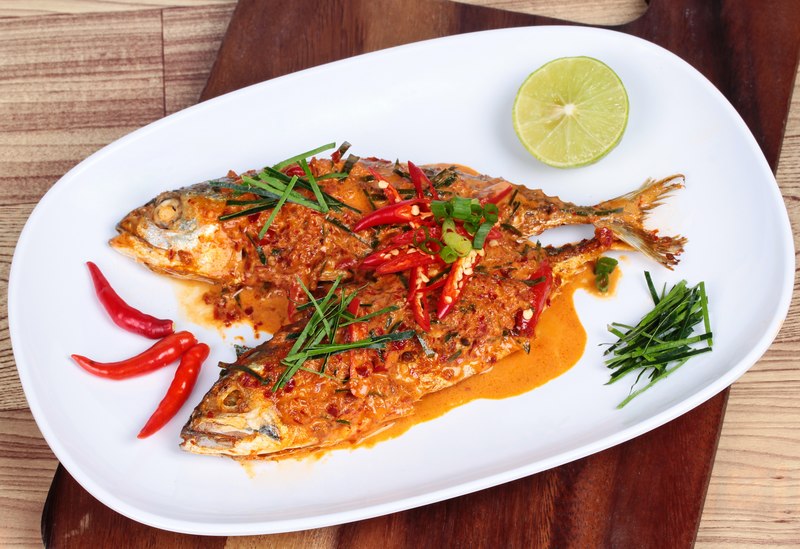 Ingredients:
8 x 100g mackerel fillets
6tbsp veg oil
salt
lime wedges.
Masala: 
20g dried guajillo chillies (can be substituted with dried red chillies)
1tsp black peppercorns
1tsp cloves
1tbsp light muscavado sugar
6 cloves garlic roughly chopped
4cm root ginger peeled and roughly chopped
4tbsp red wine vinegar
1 med hot red chilli seeded and thinly sliced
Chutney: 
4tbsp red wine vinegar
1 med red onion quartered and sliced
Juice 1⁄2 lime
Fresh coriander chopped. 

Method:
1. For the masala paste cut open the dried chillies and remove any stalks and seeds, cover with hot water and leave to soak for 20mins.
2. For the onion chutney cover the red chilli with the vinegar and set aside.
3. Drain the soaked dried chillies and grind in a food processor with the sugar, garlic, ginger, vinegar and 1/2 tsp of salt, blend adding a little of the chilli soaking liquor to make into a smooth paste.
4. Make deep incisions in the mackerel fillets on the skin side, season with salt and then spread the masala paste inside the cuts in the mackerel.
5. Fry the fish in hot veg oil until cooked, next drain the vinegar from the red chilli and mix with the remainder of the ingredients for the fresh onion chutney with some salt to taste.
6. Serve the mackerel with the fresh onion chutney and a squeeze of lime.
Scottish Scallops with Thai Barbecue Sauce

An Asian twist on one of our most popular shellfish.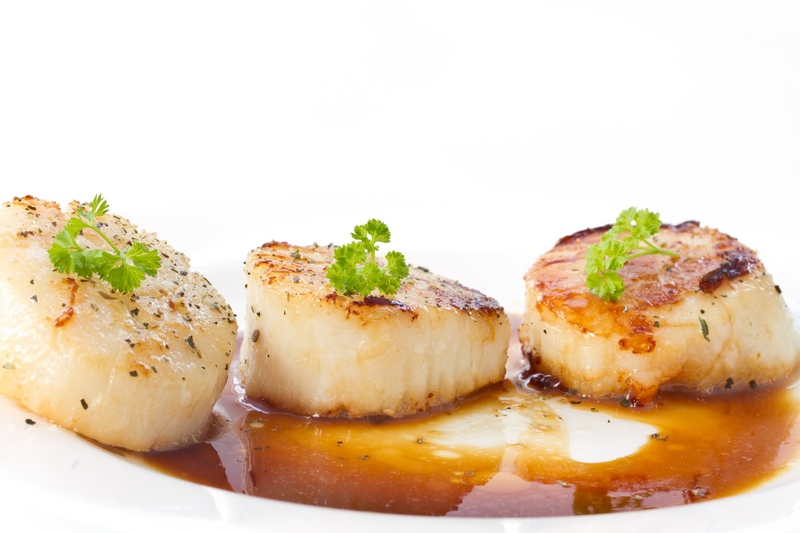 Ingredients:
8 king scallops or 12 queen scallops
Olive oil, to cook 
8ml sesame oil 
250g diced onion
45g chopped ginger 
240ml freshly squeezed orange juice
5g garlic paste
5g chilli paste
60ml honey
240ml plum sauce
120ml hoisin sauce
150g tomato juice
120ml worcestershire sauce
15g dijon mustard
30g chopped coriander
75g chopped lemon grass
90g soft dark brown sugar
3g paprika
1g black pepper
3g salt

Method:
1. Heat the sesame oil in a large pan, then add the onions and brown lightly.
2. Add the ginger and cook for 5 minutes over a medium heat.
3. Add the remaining ingredients and cook for 20 minutes.
4. Strain through a fine mesh then cook for a further 20 minutes to reduce the sauce.
5. Use straight away or allow to cool in a Kilner jar until required. Heat before serving.
6. Remove scallops from shells and clean.
7. Heat a little olive oil in a non-stick pan over a medium heat.
8. Season the scallops with salt and freshly ground black pepper before placing into the pan sliced-side down and cook until golden-brown, about 1-2 minutes.
9. Turn the scallops over and reduce the heat. Cook for a further 1-3 minutes, or until just cooked.
10. Serve with Thai BBQ sauce.